Effective task tracking is better than meeting all day
Need regular meetings to follow up tasks? Have difficulties in fully integrating and utilizing task feedback, comments and advices? SmoothTeam team collaborative task management functions help team members easily consolidate all cross-department tasks at the same time, effectively follow up related task progress, task reference documents and enable the integration of task real time information for achieving efficient task management and cooperative interactive communication.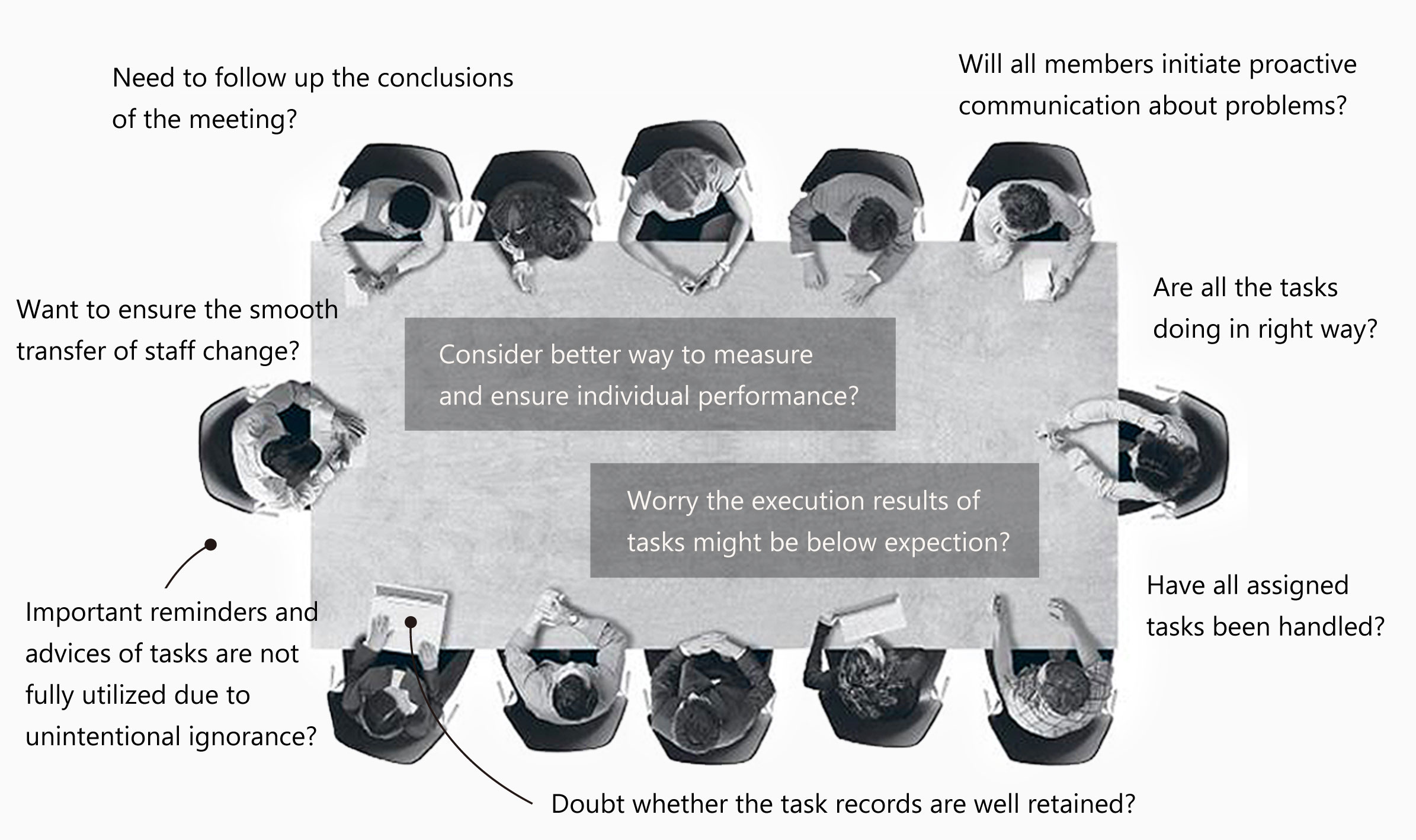 An innovative task management system evolved from best team practices
Not all tasks in an organization can always be well planned in advance. Over the years, there are too many discussions about the subjects of time management, but still a lot of teams can not get things well done. The reason of this is because most teams focus their execution management mainly on how to do the time control of already planned tasks and missions, but ignore the fact that to do good project or task management, all team members have clear grasp of task schedule, task objectives and progress status of tasks. Clear grasp of these informations not only allows project managers, task owners, relevant supervisors to have consensus about the objectives and contents of missions, but also enables them to have a comprehensive understanding of the project. In the case, we can effectively manage the implementation process of overall project tasks to ensure all project missions with expected quality and results. After many years of practical application on professional corporate team, we evolve our solutions through effective feedback of best practices. The SmoothTeam solution can be a good enabler to support large varieties of enterprise team management requirements, through the intact process management mechanism of tasks, and to help enterprises truly realizing PDCA management culture.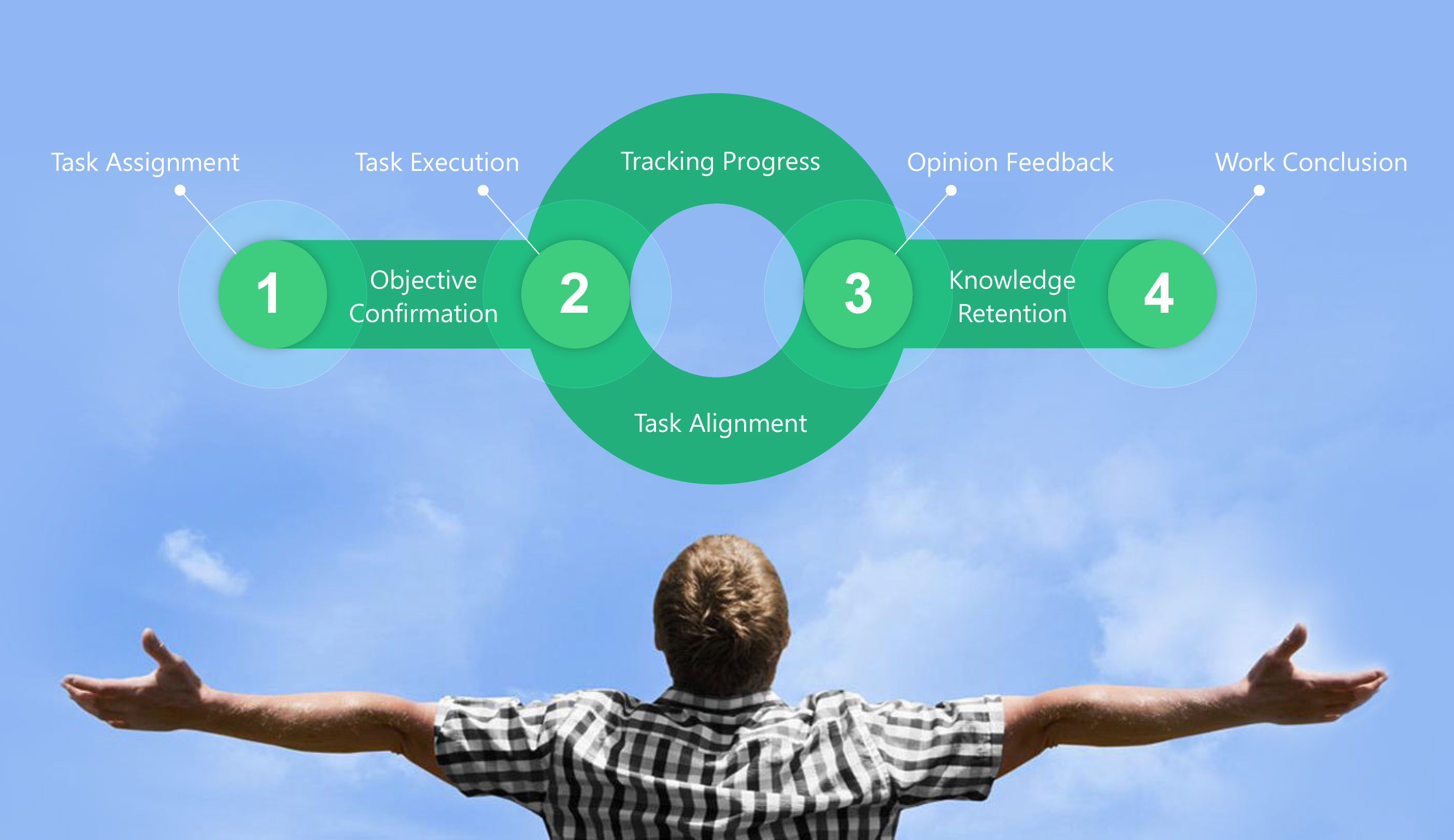 6 Steps for Effective Performance Management
Performance management shouldn't be a time-wasting repetitive events. SmoothPerformance provides a good and adaptive tool for managers and employees automate the performance management and make whole process meaningful. Following charts illustrate how a corporate build an effective performance management system in the six main aspects.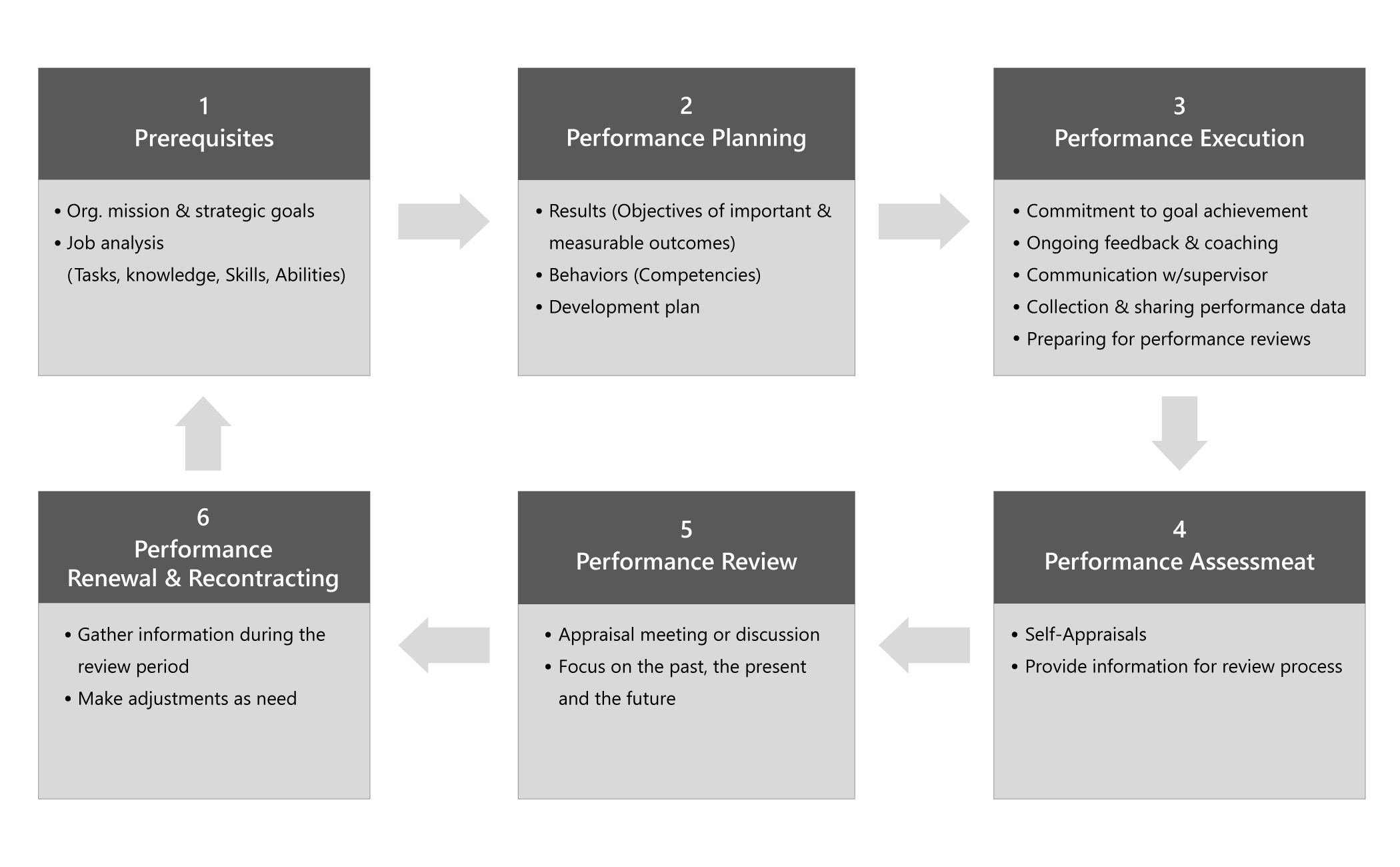 Personal desktop to help managing and grasping overall relevant missions
The task desktop organizes all tasks from various projects with clear structure to facilitate task owner having convenient grasp of progress status of on-going tasks and status of to-do-list. System can help the task owner facing multiple tasks from different projects, to effectively feedback their working progress by automatically aggregating task progress information from projects and submitting personalized work report to different relevant project members for their easy reference. System can also help to collect all ideas or feedback comments during task execution, in this way, it can enable the team members effectively doing the right thing, in the right time and in the right way, to improve work productivity and efficiency.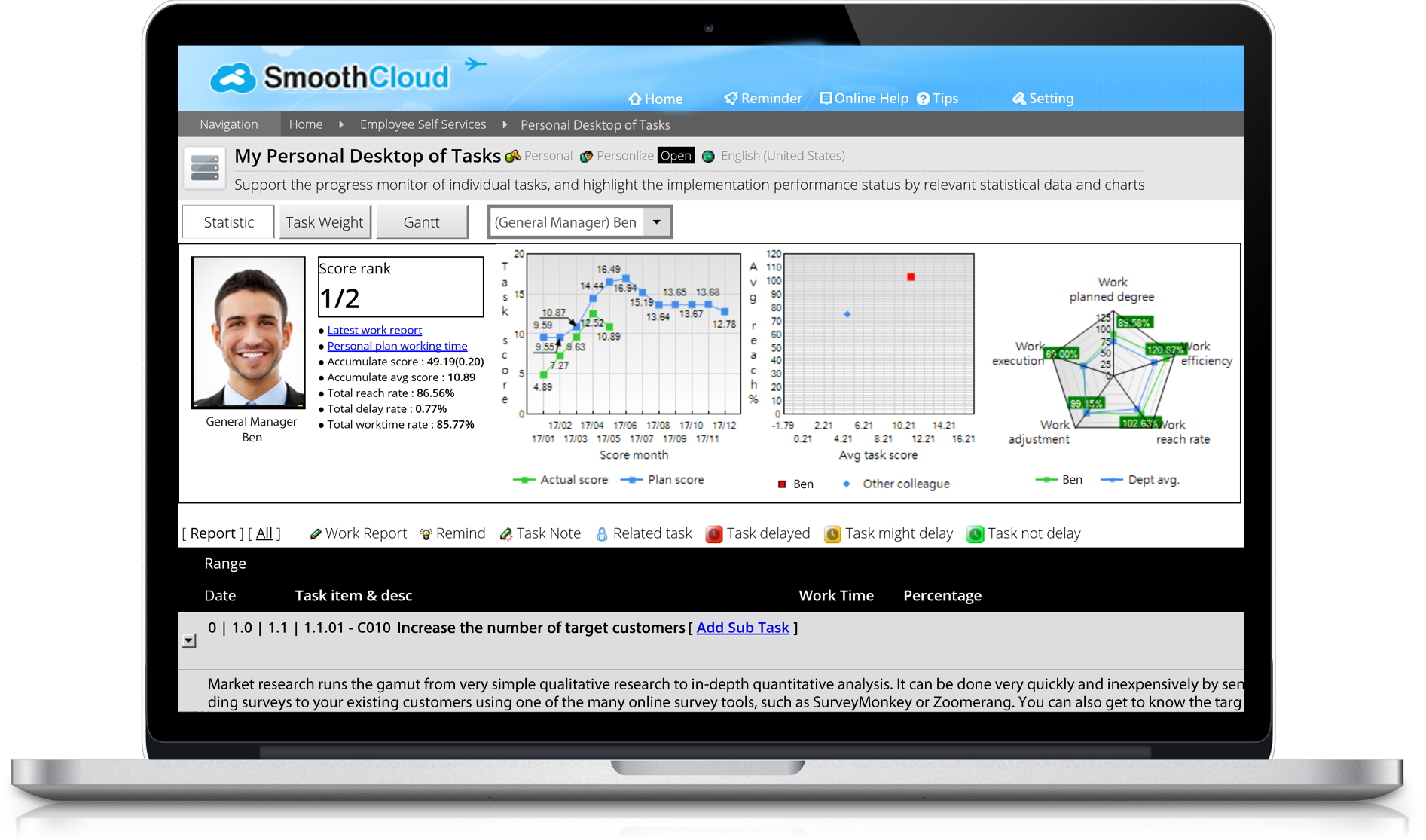 Personal Performance Dashboard
Employee setup their annual goals and assign weights here, and they gain the visibility into their goal status of quantitative data to keep them on the track. The goal-setting process here is collabrative between employees and managers. This reinforces team spirit and motivates employees more self-managed on working towards the targets.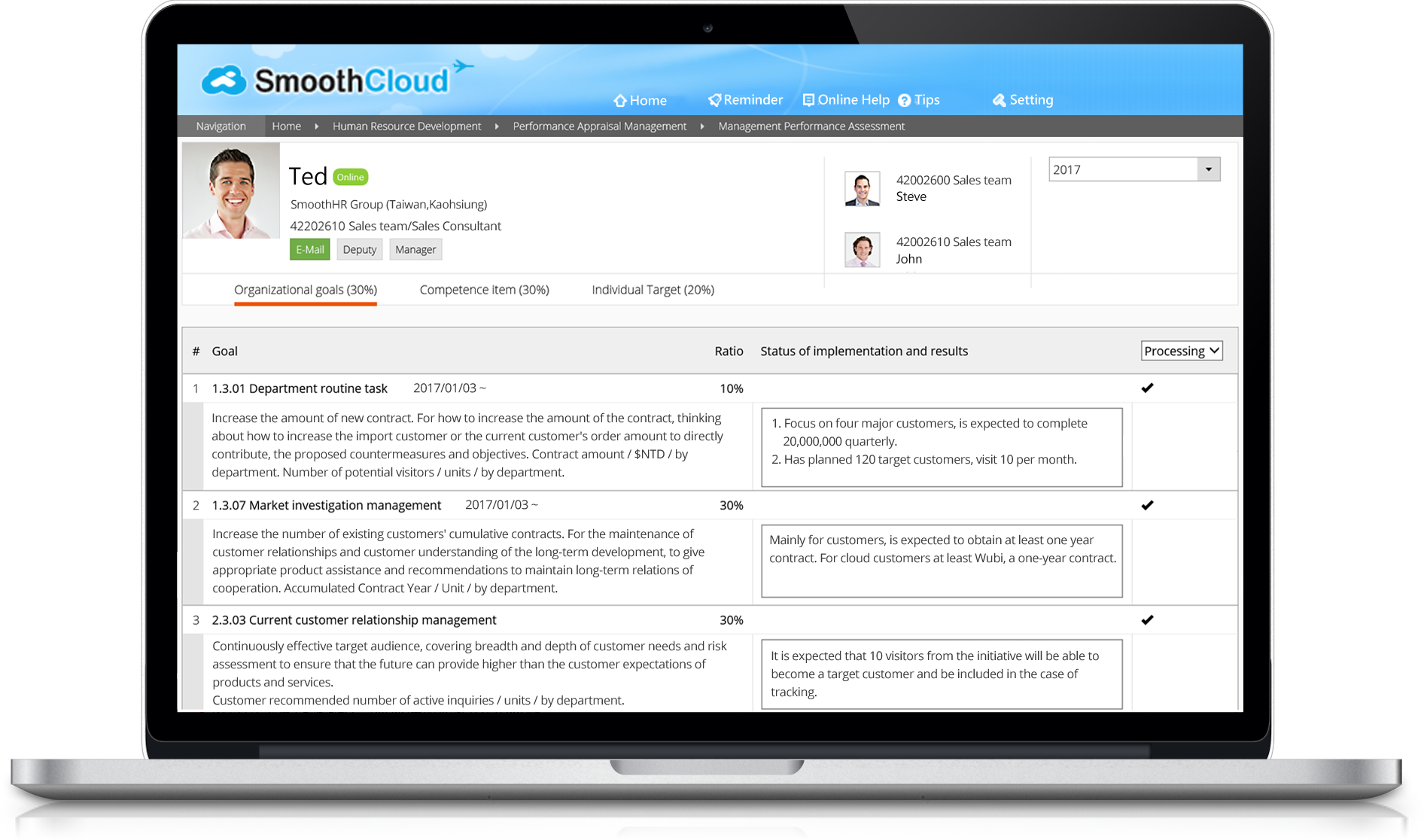 Managing Performance Data
Once individual goals are set-up, the system automatically create a regular report of personal performance data for employee check-ins. Statistics and texts will be included to Personal Performance Dashboard for performance reviews in the future. With ongoing goal updates, the system effectively integrates employee's performance progress and this strong documentation is helpful to employees and managers to quickly track the status of goal completion.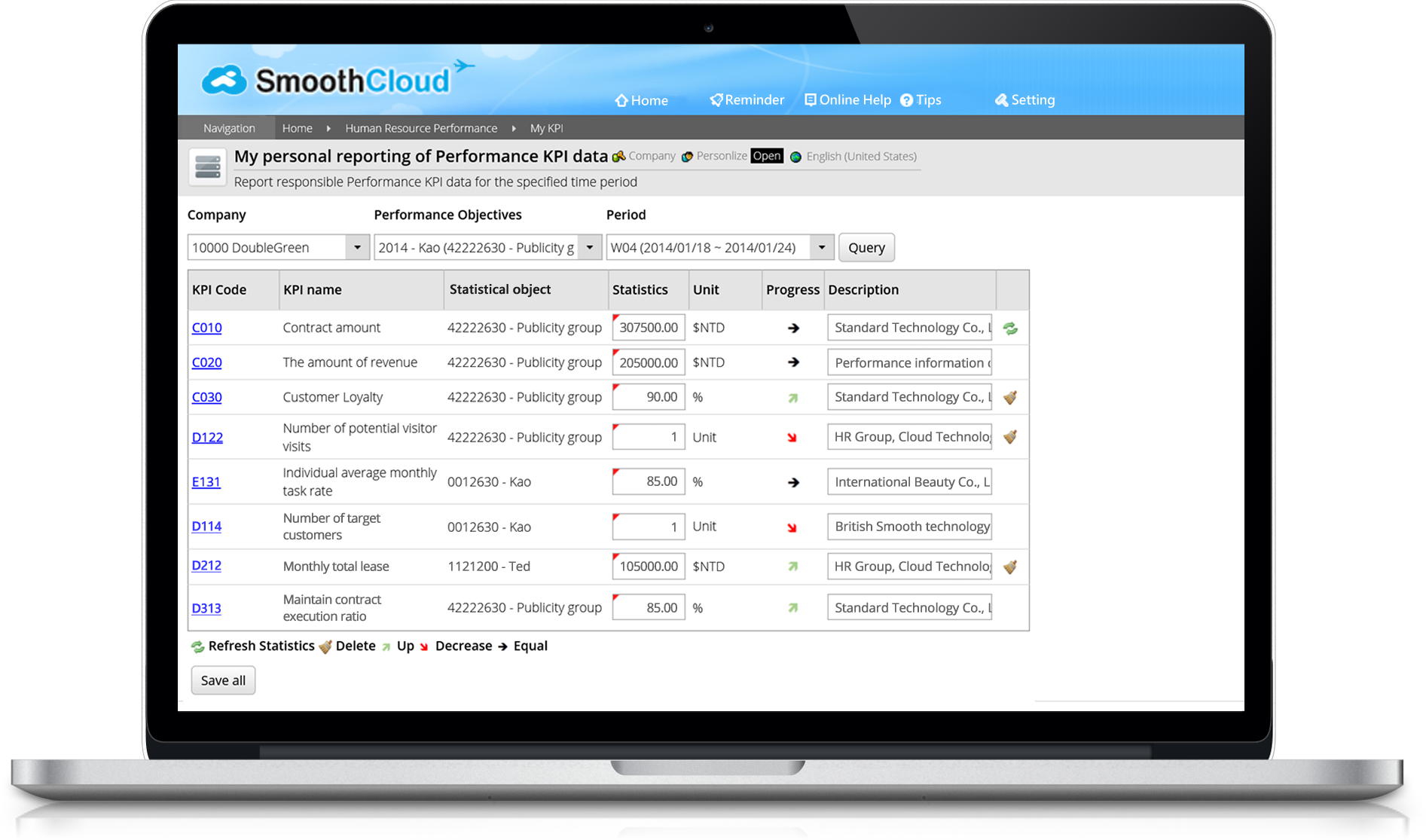 Quantitative and Qualitative Performance Review
Automatic integration of data in real-time, such as project history, working times, objectives achieved etc, makes the performance review objective and effective and no longer a painful work for managers and employees.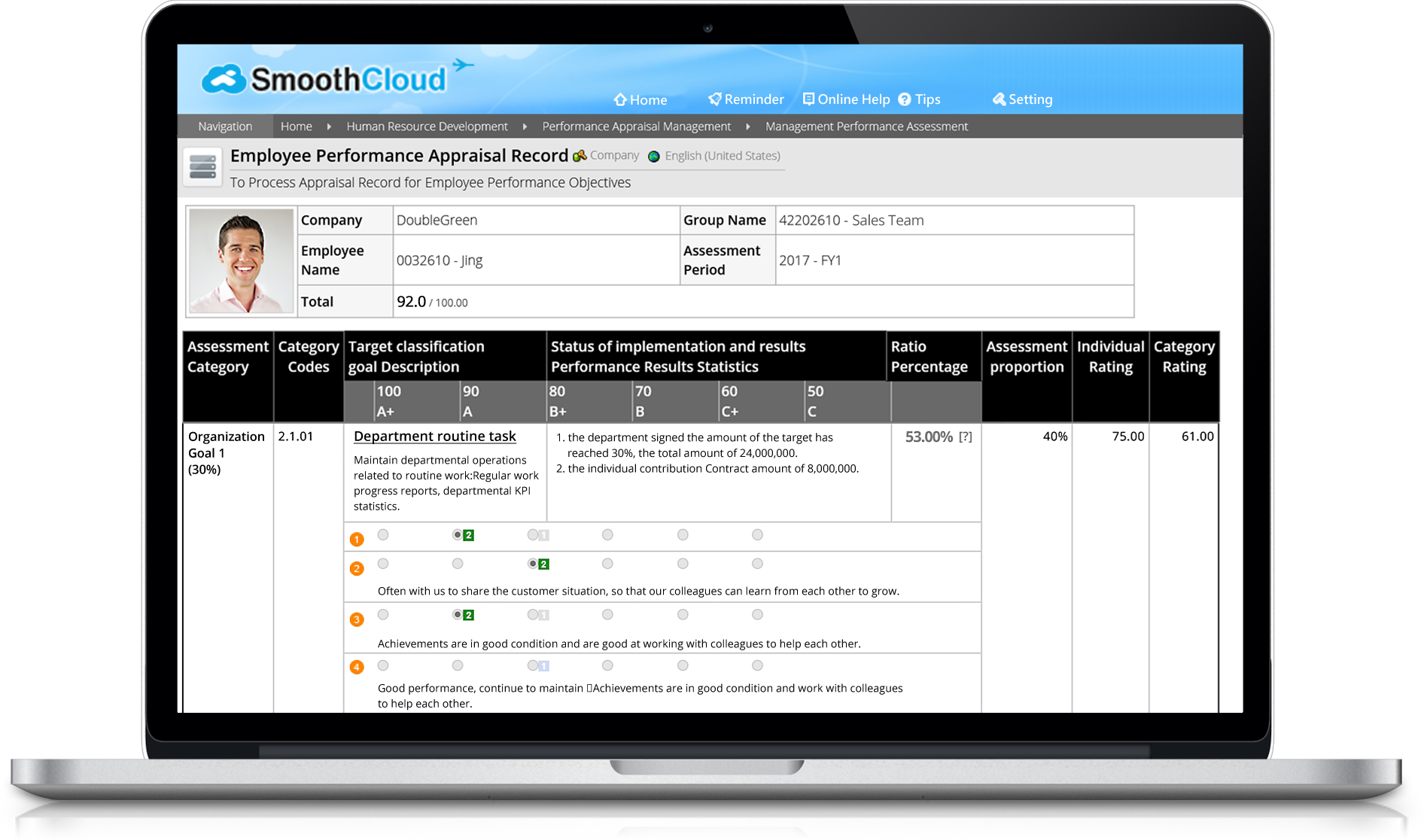 360-Degree Multirator Feedbacks
It is difficult to make performance reviews objective and impartial without fact-based evidence and relevant information. The system automatically integrate the relevant data in real-time, such as project history, working times, objectives achieved etc.
Qualitative evaluations and clarifications enable managers to see clearly the individual characters that fit the culture of corporate, and help to create an objective and effective performance review system.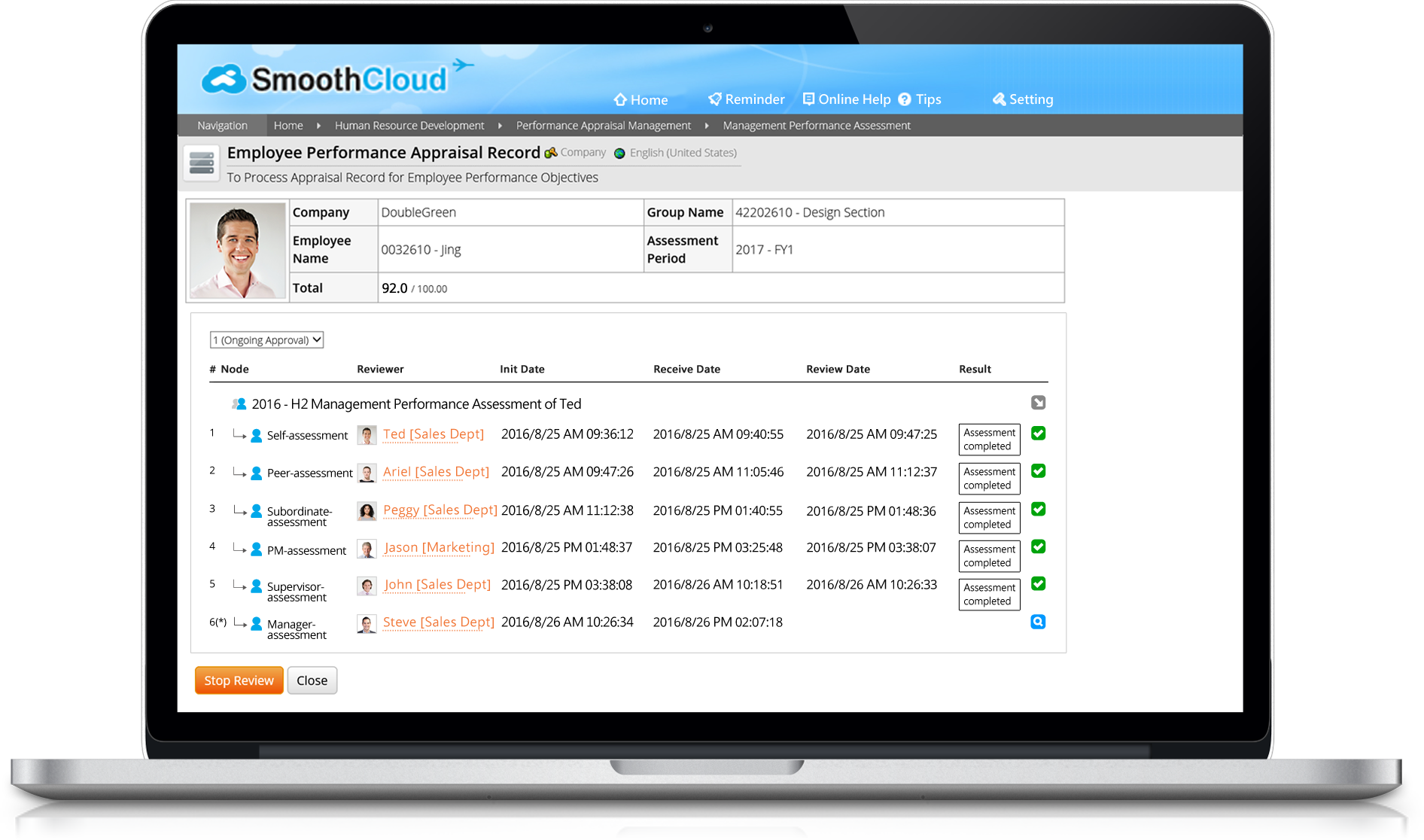 Comprehensive List of Performance Appraisals
HRs have to finalize performance appraisals in time as the results commonly linked to the annual rewards. With the comprehensive list of performance appraisals, HRs instantly get a clear picture of the status of all performance reviews and tasks, and enhance their efficiency in administration job. Thus HR officers may have more time on other business strategies or other administration works.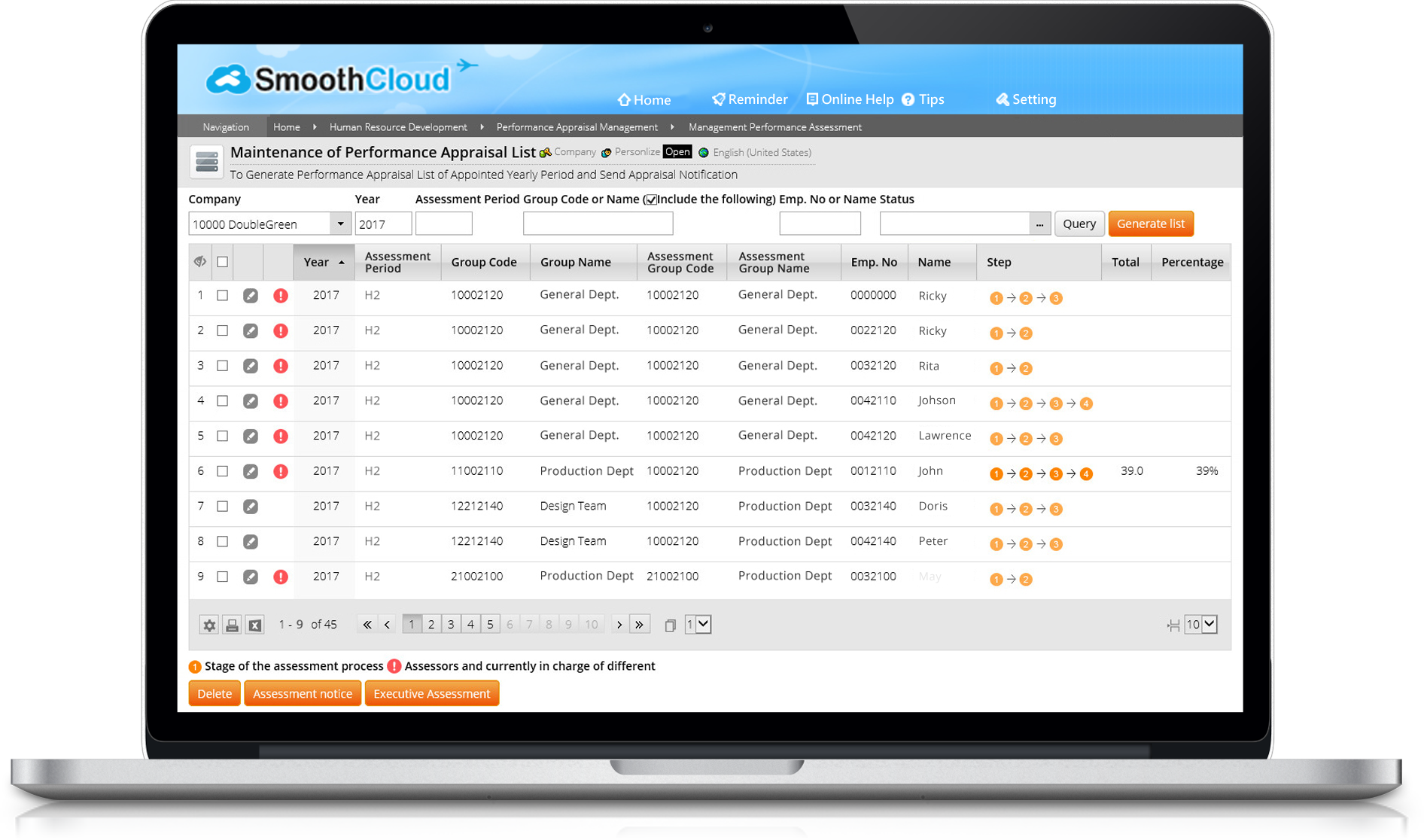 Manager desktop to help grasping team effectiveness
The automatic statistical analysis of colleagues work performance enables the continuous monitor of organizational performance and task quality. The performance and efficiency chart, based on multiple task indicators of individual, gives managers the best support of making decision on issues which might impact employee or department performance.In addition, the departmental performance and efficiency comparison chart also can be used to help colleagues aligning their direction to strive for.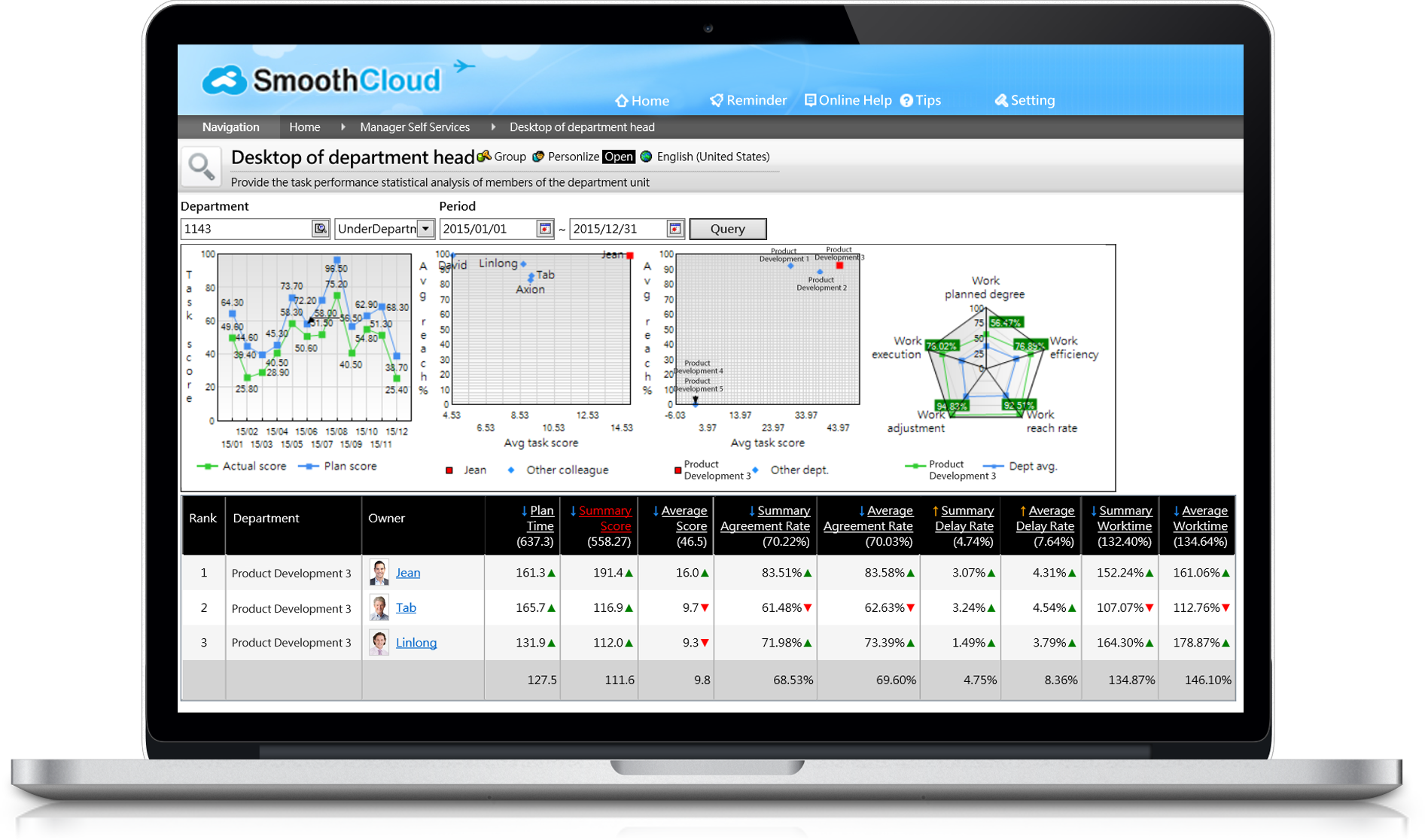 An effective team communication platform to integrate all critical workflow processes
Without the assistance of the system, team members usually can only rely on verbal messages to feedback their status or progress of tasks, which always lets lack of prior communication and afterward perception differences become serious communication barriers from time to time, and become the critical factors to heavily impact overall team performance.
The innovative SmoothTeam workflow design can effectively support horizontal and vertical integration of information among team members and supervisors. With the assistance of its proactive notification and reminder functions, SmoothTeam can effectively become the powerful interactive communication platform between the team and about all their tasks.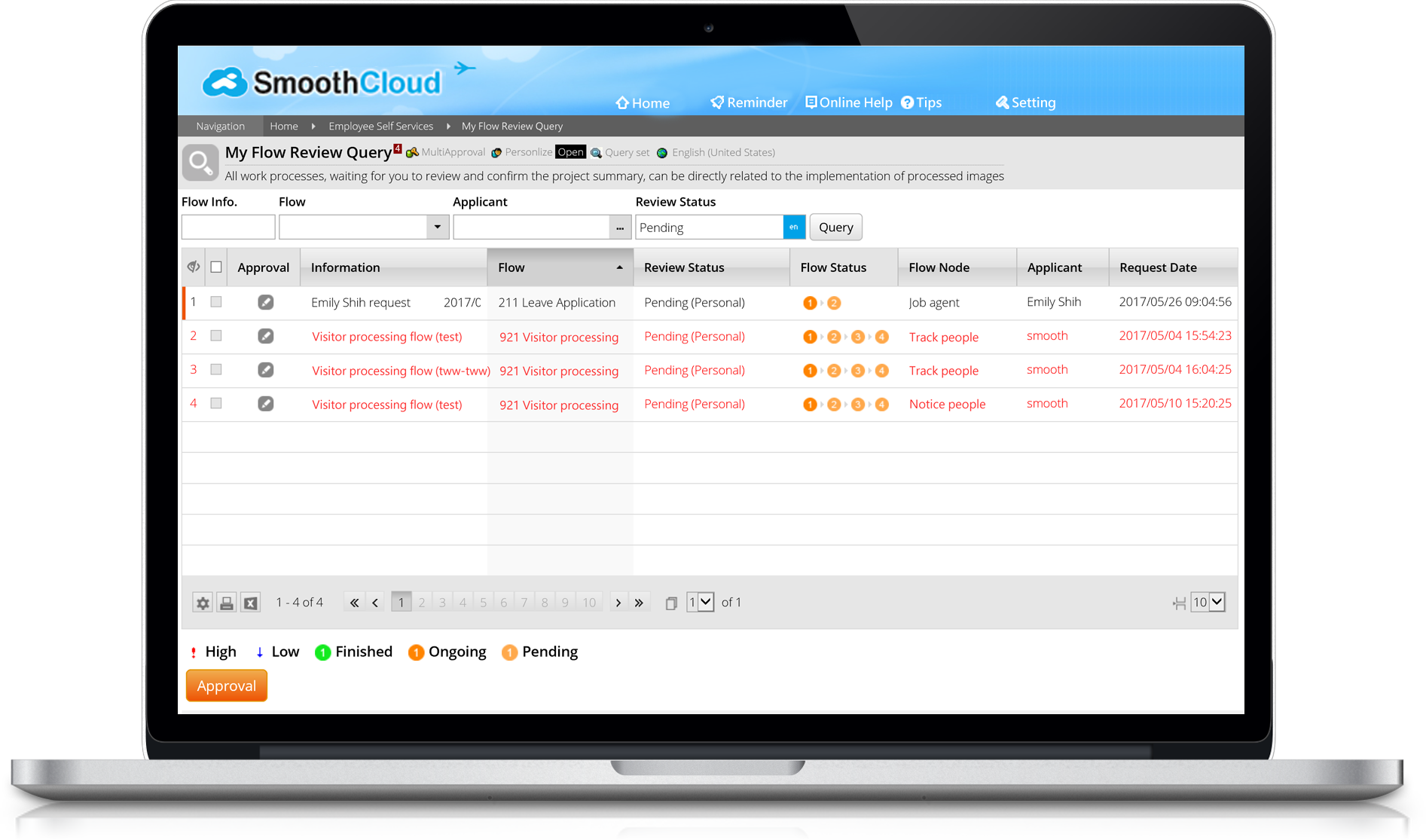 Departmental workforce dashboard
It's almost impossible to precisely foresee the manpower situation of most non-routine tasks beforehand due to the facts that sources of tasks come from many business units and projects. Without the support of system, it's difficult for managers to plan or adjust the workload of their team members along with the time.With the support of departmental workforce dashboard provided by SmoothTeam, managers can effective grasp the current manpower utilization status and future workload information, which can not only enable the capability of precisely highlighting the performance bottleneck of the team, but empower the team to exert its best resource capability.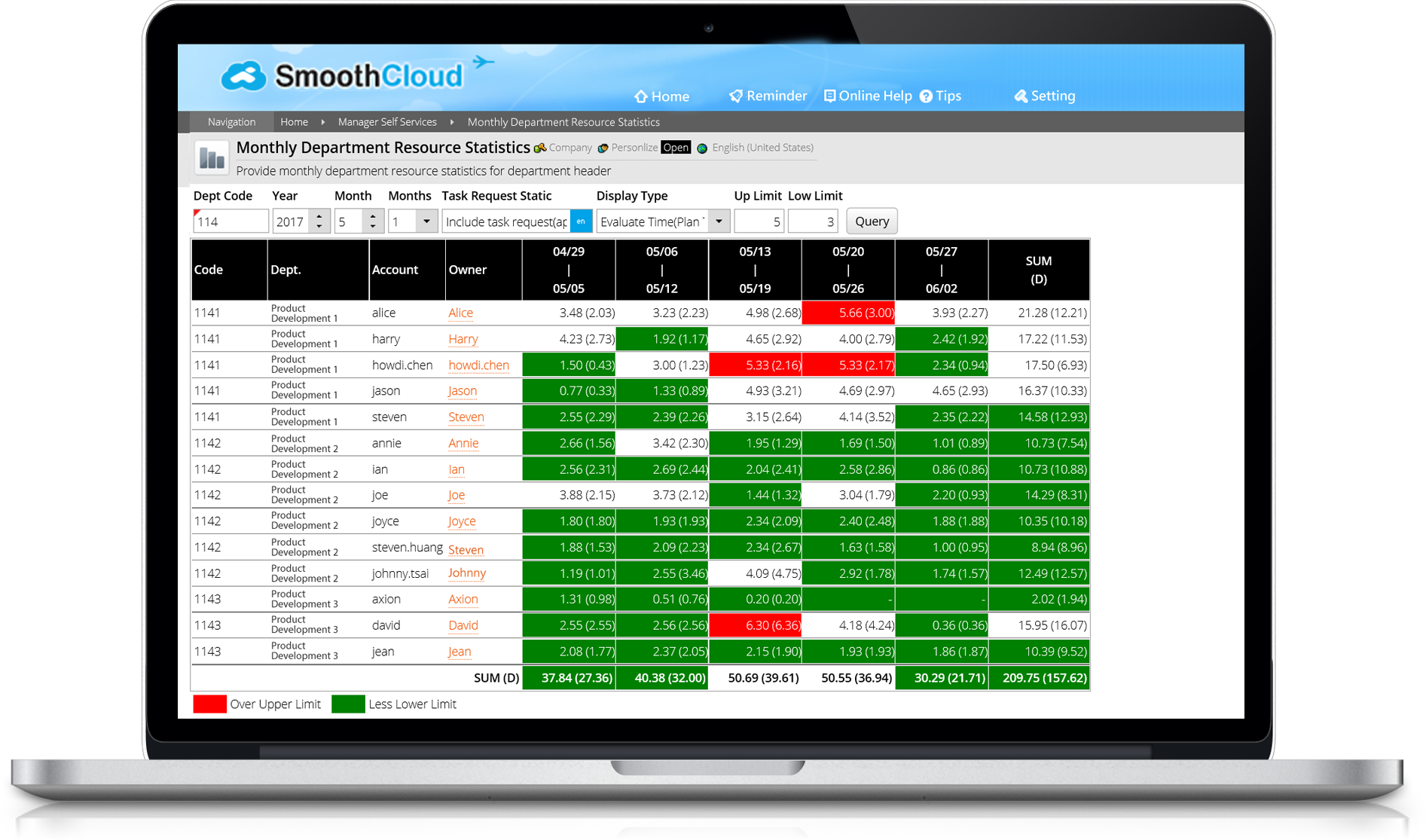 Implementation benefits and values
Support managers to keep abreast of the progress of implementation tasks to enhance management efficiency.

Enable team members to easily focusing on their responsible assignments to help realizing goal-oriented management.

Provide the capability of quantitative evaluation of task execution to establish objective and valuable assessment mechanism.

Create effective progress tracking management mechanism to fully grasp intact team critical activities and their related contexts.

Establish a multidimensional team-oriented interactive communication platform to enhance team's operational efficiency.

Enable the capability of the relevant quantitative data collection to help highlighting the team operation problems.

Take advantage of autonomous behavior change of team members to create the self-management corporate team culture.

Enable managers track progress in real-time to ensure the team achieve the corporate's goals

Enhance the efficiency in performance reviews and employees can focus on high-value core tasks

Produce fair and objective performance results with multi-source feedbacks and reviews

Support quantitative data during reviewing employee's performance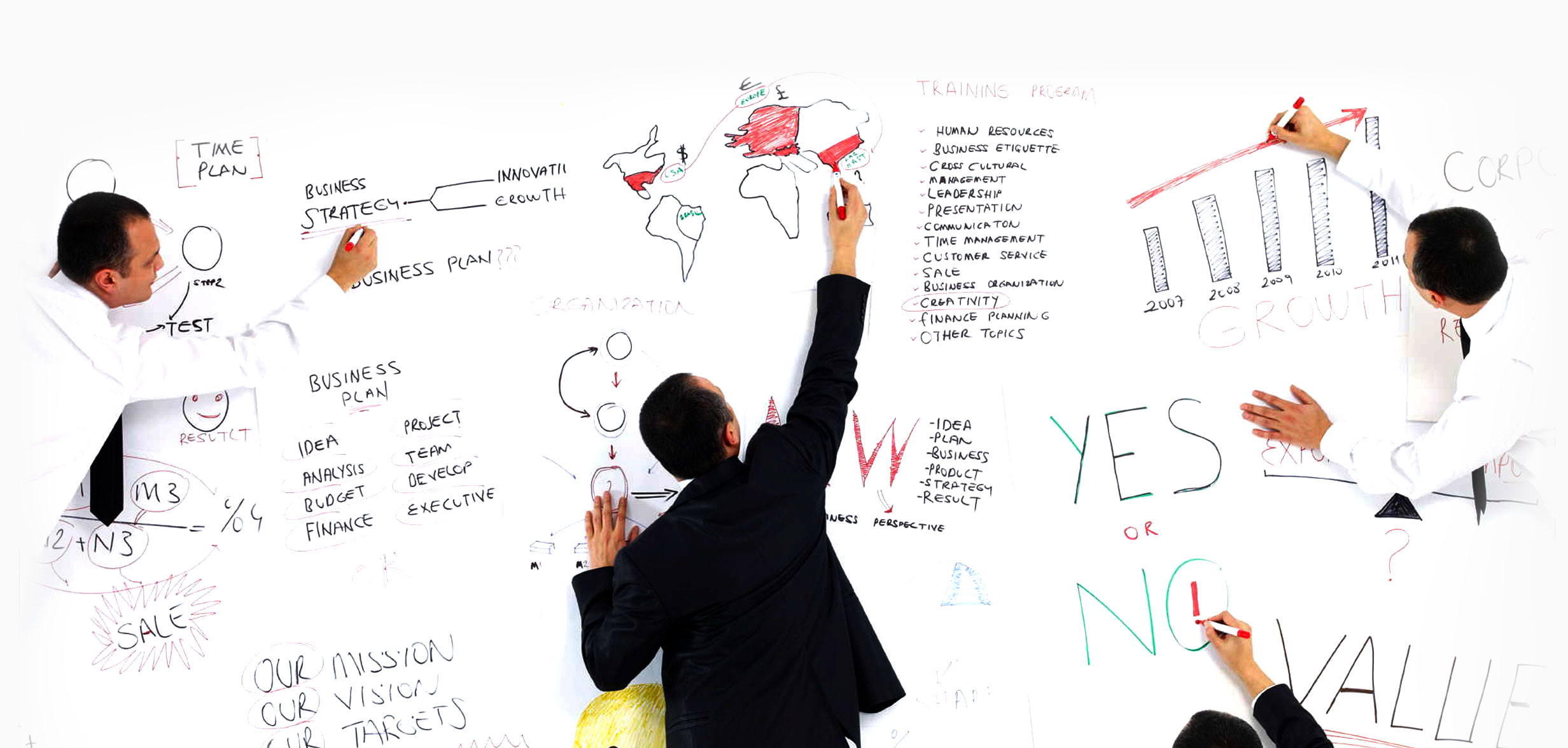 How SmoothHR create a high-efficiency recruitment management system through efficient candidate filtering and automated interview and hiring process?